Evan Walsh is an agent of the William Raveis Real Estate Company. In two short years he went from raising funds for the Raveis Ride + Walk to support cancer research, to becoming a patient himself with stage three muscle-invasive bladder cancer, to a cancer survivor. Evan delivered the following speech at a conference of fellow William Raveis agents.
Hello everyone. My name is Evan Walsh of The Walsh Team, and I am an agent in the Wellesley Office.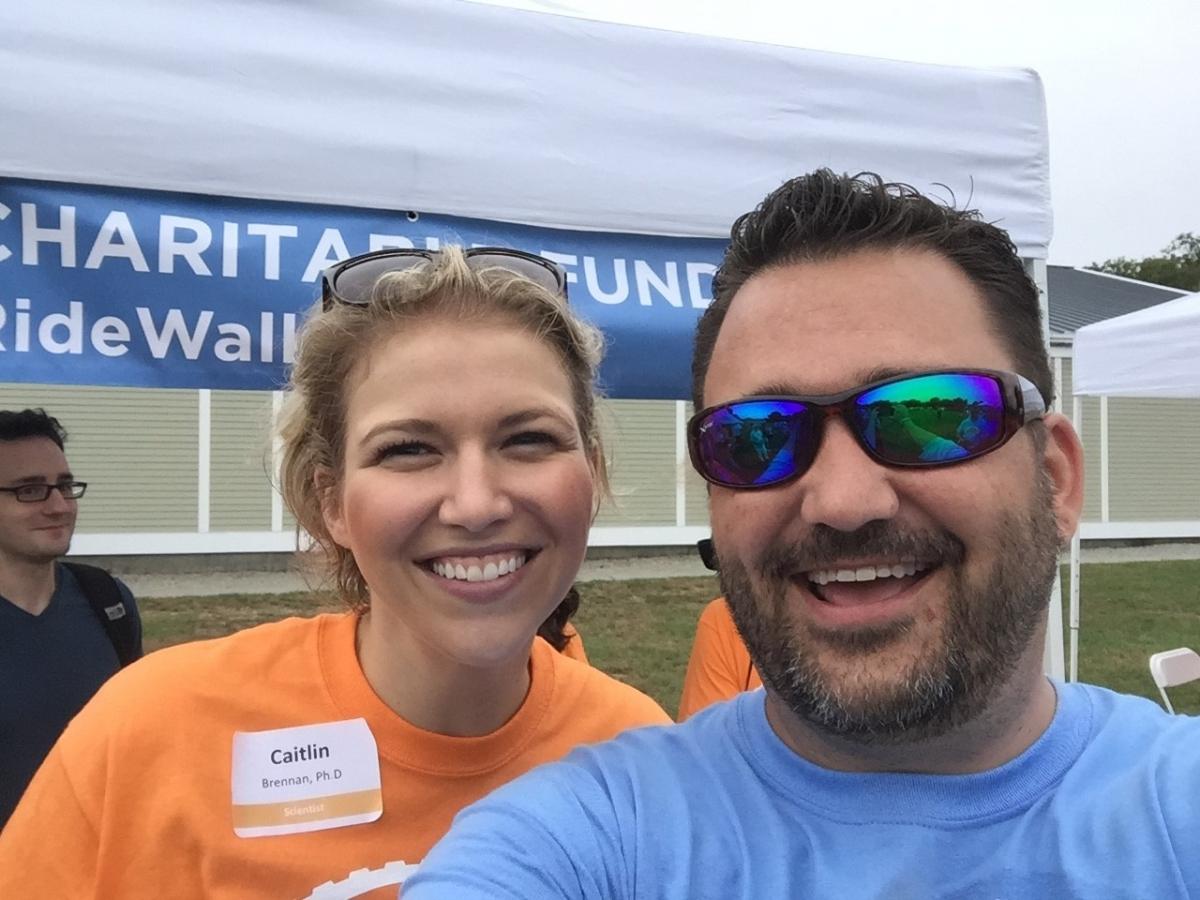 at the Raveis Ride + Walk


Every year thousands of people across the country shave their heads for charity in support of people battling cancer. Unfortunately, that is not why I stand here, bald, today. Three months ago I was diagnosed with stage three muscle-invasive bladder cancer. I have just completed a six week cycle of chemotherapy and on April 28th I will be going under the knife for robotic surgery, where they will remove my bladder and make me a beautiful new one using a section of my small intestines.
But hey, it's not all bad. I've asked to have an extra large one put in so when I'm tailgating I won't have to wait in line for the bathroom! No longer will I be "that guy" on the side of the road. It's also given me an opportunity to buy all sorts of cancer related gear like this "cancer sucks" t-shirt. Cancer has allowed me to finally, and maybe most importantly, be able to wear my funny wigs at open houses!
Two years ago I was approached by Chris and Meghan Raveis and was asked to work with an incredible team for our 1st annual Raveis Ride + Walk event in support of the Damon Runyon Cancer Research Foundation. I was selected to be on the marketing and promotion committee, and had the great honor of meeting and interviewing many of the physicians and scientists who have received support from Damon Runyon.
For those of you who may be unfamiliar, Damon Runyon provides early career funding to some of the brightest young minds in cancer research so their new and often revolutionary ideas can become reality. One of the things that struck me most when speaking with Damon Runyon-funded scientists was the unbelievable passion and dedication these individuals had towards their research and their patients.
When I asked Dr. Leo Wang from Dana Farber and Children's Hospital in Boston, "do you love what you do"? He said he decided as a young researcher that his main goal in life was to cure cancer, at any cost. He made the choice knowing he would miss out on important personal milestones like bedtime with his kids, baseball games, and birthday parties. His patients would come first. I can't tell you how comforting, as a patient now myself, that commitment made me feel.
The reality is: this cancer is some scary stuff. When you're first diagnosed all you do is cry because you are lost and confused, and it's a dark and scary place. You spend every minute of the day wondering what's going to happen; wondering if you're going to live or die; wondering what the chemo will be like.
I wonder now what my surgery and recovery is going to be like. Naturally, one of the things you start to look for is answers, because answers provide hope. And hope, no matter how big or small, is what you need to stay positive.
Once I started getting the answers I needed, that's literally when things turned around for me. I don't know if was good luck or karma, but everything started falling into place. I started getting signs that everything was going to be OK.
It turns out that my urologist's wife works for our company in the Newton office, which provided me with some comfort knowing that he must be a pretty smart guy if he's married to a Raveis agent! It also turns out that my best friend worked for the company that produces the DaVinci robot that will be used in my surgery, and he knows the technician who trained my surgeon on operating this technology. He said he's one of the top three surgeon's in the country for this procedure. But maybe the most important answers I received came because I got involved with this event two years ago.
My first call, when I received my diagnosis, was to Lorraine Egan, President and CEO of Damon Runyon, who literally called me back immediately to provide me with information and answers my family and I were so desperately was seeking. She did research on Beth Israel Hospital in Boston and on their medical facilities to ensure that I was in the right place. She researched my surgeon along with his experience and credentials to ensure I was in the best hands. She gave me the names of other top notch surgeons in Boston whom I could speak with if I wanted a second opinion. She gave me the name of a survivor who underwent the same surgery and is on the Board of Directors at the Bladder Cancer Advocacy Network, and who has literally spent hours on the phone with me talking about the procedure and what to expect.
But what Lorraine really did, whether she knows it or not, is provide me with hope. This hope turned my confusion and doubt into optimism.
Last year I was sitting in your exact seat as cancer was unknowingly growing inside me. This year I ask for your support of the Raveis Ride + Walk to benefit Damon Runyon. Not for me, but for other cancer patients whose only hope rests with the brilliant young scientists they support.
Together, we can make a difference!