Two Damon Runyon scientists have received the 2020 Pershing Square Sohn Prize for Young Investigators in Cancer Research. Recipients receive $200,000 per year for up to three years and opportunities to present their work to scientific and business audiences, helping to bridge the gap between the academic and business communities.
"We are proud to see our scientists going on to win other prestigious awards that enable them to propel their careers forward and make breakthroughs in cancer research," said Yung S. Lie, CEO, Damon Runyon Cancer Research Foundation.
This year, two of the seven awards were granted to Damon Runyon scientists at Memorial Sloan Kettering Cancer Center: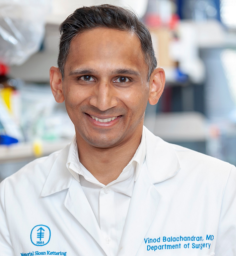 Vinod P. Balachandran, MD, at is focusing on identifying effective immunotherapies to treat pancreatic cancer. Specifically, his project will develop new immunotherapies to activate a recently discovered immune cell called group 2 innate lymphoid cells to kill pancreatic cancers and treat patients. Dr. Balachandran is a Damon Runyon Clinical Investigator ('17-'22).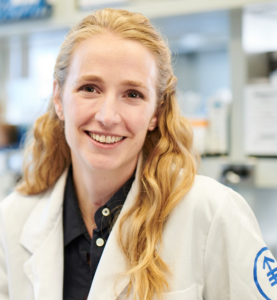 Lydia Finley, PhD, is investigating how cancer cell metabolism affects pediatric cancers. Her research aims to find potential drug targets to block the growth and progression of pediatric sarcomas by studying their metabolic pathways. Dr. Finley is a former Damon Runyon Fellow ('13-'17) and Dale Frey Breakthrough Scientist ('17-'19).
Previous Damon Runyon Award Winners
2019
Adrienne A. Boire, MD, PhD (Damon Runyon Clinical Investigator '17-'20), Memorial Sloan Kettering Cancer Center, Learn more
Alex Kentsis, MD, PhD (Damon Runyon Clinical Investigator '16-'19), Memorial Sloan Kettering Cancer Center, Learn more
2018
Benjamin L. Martin, PhD (Damon Runyon-Rachleff Innovator '17 – '20), Stony Brook University, Learn more
2017
Yimon Aye, PhD (Damon Runyon Fellow '09 – '12), Weil Cornell Medicine, Learn more
Daniel A. Heller, PhD (Damon Runyon Fellow '10 – '12), Memorial Sloan Kettering Cancer Center, Learn more
Eirini P. Papapetrou, MD, PhD (Damon Runyon-Rachleff Innovator '14 – '17), Icahn School of Medicine at Mount Sinai, Learn more
2016
Agnel Sfeir, PhD (Damon Runyon-Rachleff Innovator '14-'16), New York University School of Medicine, Learn more
Omar Abdel-Wahab, MD (Damon Runyon Clinical Investigator '13-'16), Memorial Sloan Kettering Cancer Center, Learn more
2015
Arvin C. Dar, PhD (Damon Runyon-Rachleff Innovator '14-'16), Icahn School of Medicine at Mount Sinai, Learn more
Moritz F. Kircher, MD, PhD (Damon Runyon-Rachleff Innovator '14-'16), Memorial Sloan Kettering Cancer Center, Learn more
Christine Mayr, PhD (Damon Runyon-Rachleff Innovator '13-'15), Memorial Sloan Kettering Cancer Center, Learn more