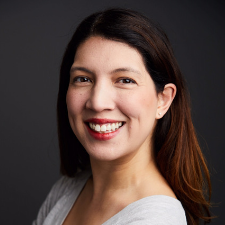 Trailblazers take a problem and develop solutions, which is exactly what Damon Runyon Clinical Investigator Heather L. Yeo, MD, did when she saw many of her patients were readmitted to the hospital due to post-surgery complications. An oncologist specializing in colon and rectal surgery at New York-Presbyterian/Weill Cornell Medical Center, Dr. Yeo worked with Cornell Tech to develop a smartphone app that allows patients to input information about their health and pictures of wound healing, then sends it to doctors; it also generates reminders to help patients stick to their aftercare regimens. At the first signs of trouble, doctors can intervene before hospitalization is necessary. The unique mobile app, now in clinical trials, aims to transform patient care. "I can imagine a future where all doctors are using a simple but effective mobile app to keep a close eye on their recovering patients outside the hospital," Dr. Yeo says.
She realized early on that she wanted to be a physician interested not only in making a difference for her individual patients, but on a larger scale. "The privilege of taking care of patients is one that my parents, both in healthcare, instilled in me." Damon Runyon's funding has been critical in giving her the freedom and independence to develop her patient care app and run randomized, controlled clinical trials to test how well it works for patients. "As a woman surgeon and clinical investigator, Damon Runyon has opened doors to networking events in the tech industry and mentorship opportunities," she adds.

As a mentor herself, Heather is an active member of the Association of Women Surgeons and nominates women for awards and leadership positions. Her advice to young women pursuing a career in STEM (especially her daughter, Bella) is to, "…find what you love, be curious about how things work, and know that a career in STEM can be anything you make it to be."