By the time Denise Delatorre heard about a clinical trial for a radical new immunotherapy treatment called CAR T in 2015, her non-Hodgkin lymphoma had metastasized to 32 tumors throughout her body. The cancer was spreading into her spine, despite the intensive chemotherapy she had already endured. But Denise refused to give up. A single mom and real estate agent, she was determined to see her son graduate from college.
Less than a month after her chemotherapy failed, she contacted former Damon Runyon Clinical Investigator John M. Timmerman, MD, at the University of California Medical Center, Los Angeles, to enroll in the trial. CAR (chimeric antigen receptor) T treatment trains a patient's immune system to find and kill cancer cells. First, T cells, white blood cells that roam through the body fighting infection, are extracted from the patient and modified. Within weeks, the cells are genetically engineered to recognize the cancer and then infused back into the patient.
"Denise was our patient number one, and I certainly had every bit of confidence that it was going to work," Dr. Timmerman said. "But it's one thing to think it and another to actually see it happen. To see her scan and then to see those 32 tumors begin to melt away was extraordinary."
More than three years since her treatment, Denise's cancer remains in remission.
"This is very different than anything else we use, a one-time treatment," Dr. Timmerman said. "This is a living therapy—the cells divide, circulate through the body and seek out the cancer wherever it is."
Denise is proud to say she played a part in bringing this groundbreaking treatment to advanced cancer patients who have run out of options. "When I participated in this clinical trial, it wasn't just for me," she said. "I'm honored, actually, to have been a part of it."
Josh Feldman, another early patient in CAR T clinical trials, came to Dr. Timmerman after five years of battling recurring lymphoma. At the time, Dr. Timmerman was involved in running a multisite clinical trial sponsored by Kite Pharma called Zuma-1, after the Malibu beach—which Josh, a surfer, took as a good sign.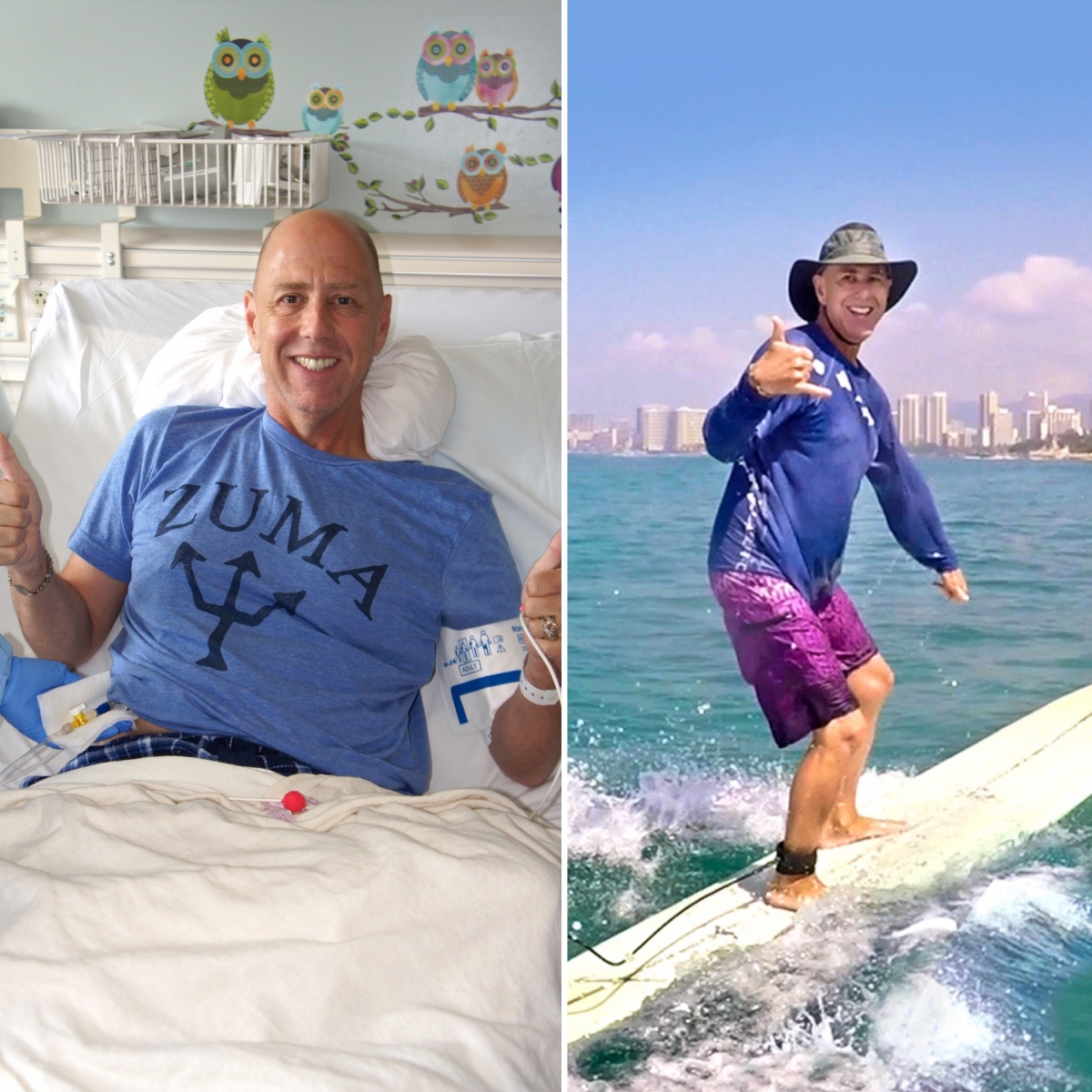 Josh's cancer journey began in 2010 when he noticed a lump on the back of his neck about the size of a chickpea. In the following years, cancer and complications from his treatment ate away at his health and quality of life. The lymphoma withstood everything doctors threw at it.
Finally, with CAR T therapy, Josh experienced results with minimal side effects. After repeated scans over the next 18 months, Dr. Timmerman was able to deliver the good news: there was no sign of cancer.
"Dr. Timmerman really cares," Josh said. "He's all in, and he's not afraid to be on the cutting edge to make sure his patients get the next thing, the best thing."
The early success of CAR T treatments in patients like Josh and Denise led the U.S. Food and Drug Administration to approve two different CAR T treatments: Kymriah® (tisagenlecleucel) for adults with certain types of non-Hodgkin lymphoma; and Yescarta® (axicabtagene ciloleucel) for diffuse large B-cell lymphoma.
Dr. Timmerman's research over the last 25 years on immunotherapy for lymphoma has helped usher in the era of engineered T cells to treat cancer. However, despite CAR T therapy's success in some patients, it doesn't work for most people: sixty percent relapse within the first year after treatment. The treatment is so arduous that patients must have strong organ function to be candidates. In fact, CAR T therapy is available only as a last resort after traditional therapies have failed.
"I think all the time about the patients who don't respond," Dr. Timmerman said. "In our research laboratories, we're figuring out how to make CAR T therapy more effective, safer, and how to take care of the majority of patients for whom it doesn't work." Dr. Timmerman credits Damon Runyon support from 2005 to 2010 with helping him establish a research career while continuing to see patients. As a physician scientist, cancer is not abstract to Dr. Timmerman.
"It's not something we see in textbooks and in slides. We see people dying from it—we see nasty tumors growing. It gives you a sense of urgency that other scientists, who don't see these patients every day, may not have."