Written by Jennifer Cavanaugh, breast cancer survivor, advocate, wife and mom.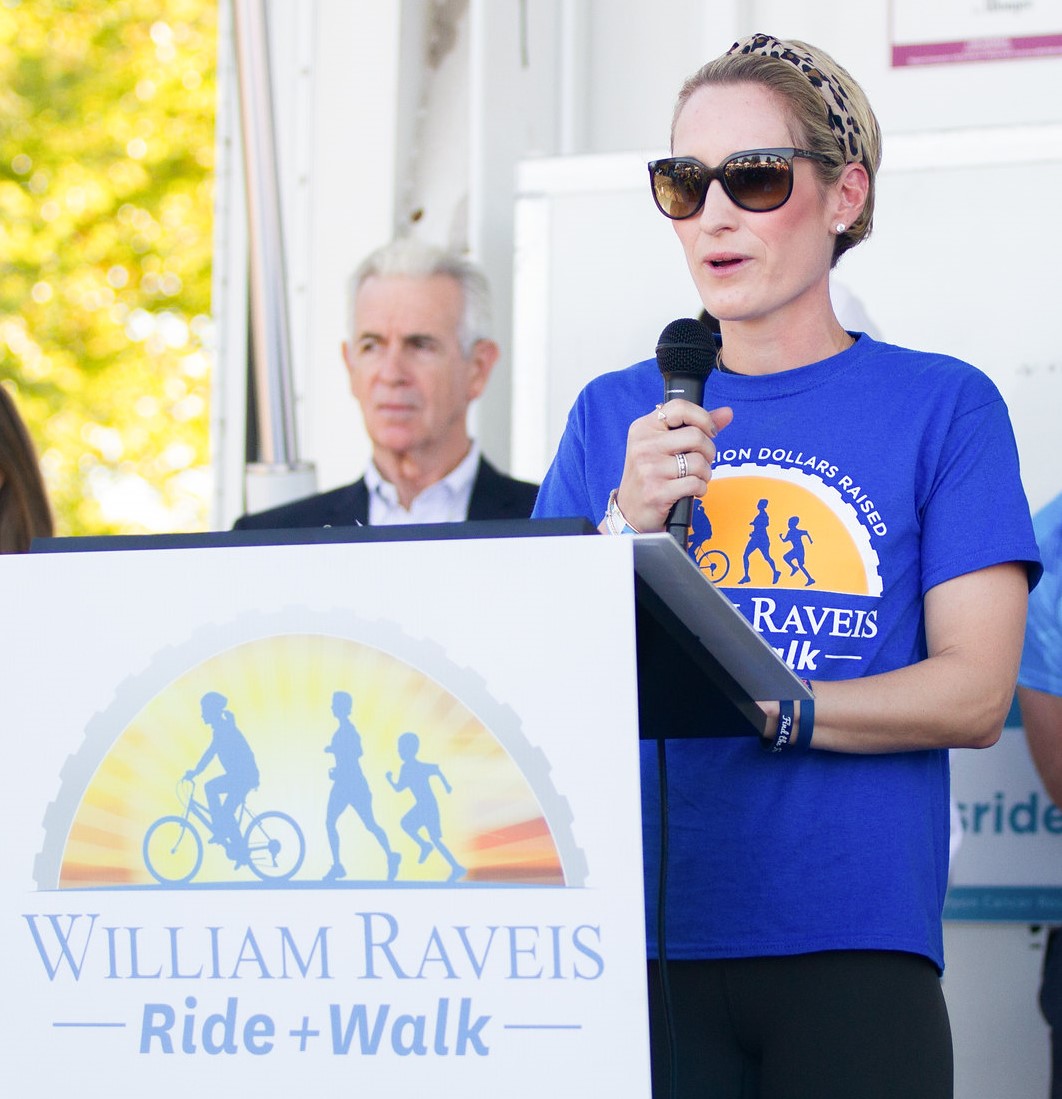 I had been a huge supporter of cancer research and the Raveis Ride + Walk fundraiser since its inception five years ago. Last year, I attended and walked with my family while I was in the thick of my battle. I was and still am somewhat in shock that it is me standing here speaking to all of you, especially at this point in my life. In June of 2018, I was diagnosed with Stage 2 breast cancer; it was an aggressive subtype called HER2+ and hormone negative. I had a fairly small tumor, but upon additional scans, we realized it had infiltrated at least 4 of my lymph nodes under my arm. When diagnosed, I was probably the fittest I've ever been; I was a healthy young woman. I exercised multiple times a week; I cared about what I ate and was busy tending to my three very young boys. I found the lump myself shortly after my third was born, and the probability that my lump was malignant was about 2%. Yet, here I am, a 36-year-old woman, wife, mom, daughter, sister, aunt, friend, and now a survivor of cancer. Breast cancer does not run in my family, and all 52 genetic tests that they ran came back negative, so I am one of those patients where a doctor had no better explanation than my tumor was simply the product of bad luck.
My journey was hard, but with one foot in front of the other, I've gotten to where I'm standing now. In 15 months, I've overcome 16 rounds of chemo, 16 cold caps, a lumpectomy and a sentinel node removal, an anaphylactic reaction, MRIs, cat scans, mammograms, three biopsies, ultrasounds, hospitalizations, countless IVs, 17 rounds of antibodies and 30 rounds of radiation. I can't say I've done it all gracefully or without tears. I can't say it hasn't tested me or that I've tackled it without wanting to give up sometimes. It's been the hardest year of my life. While today I stand here cured of cancer, cancer has forever changed me. It's evoked a fear I never knew existed, and the scans I'll receive every six months for the next five years will be small reminders of it. However, the current blessing at the end of my cancer road is that this hardship of a year is allowing me a second chance to LIVE my life, and I plan and hope to do just that.
I like to try and put a positive to the negative, and so I think that these hardships, these periods of darkness in our lives, they happen to remind us of all the good. So, today, as I stand here and talk to you, I feel in awe of what I've endured. Strong in what I've accomplished. Brave in what I've faced, but most of all, I feel grateful for what I have and very hopeful about what's ahead.
Grateful because my prognosis is a good one, and life has finally started to renter our house. I'm hopeful because, as I look out at all of you, The Raveis Ride and Walk Community, I feel confident that the same mission unites us, the same goal and that is to raise money for Damon Runyon so they can continue to fund amazing researchers whom I know will rigorously battle for a cure.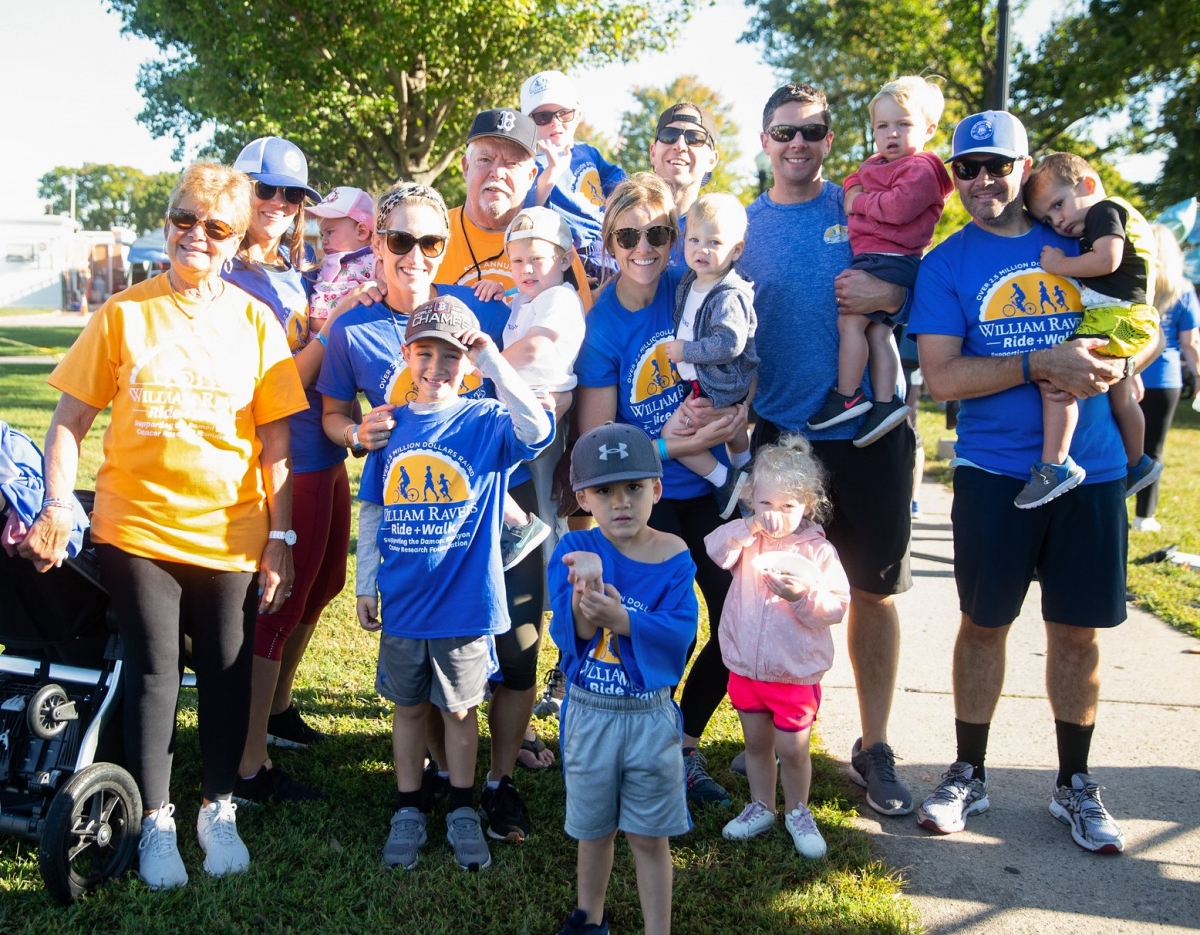 I know I'm not the only one in this audience who has battled cancer. I know others have fought it themselves, who lost a loved one to the disease, who have seen someone they love suffer, and I know I'm not the only one that wishes for nothing more than a cure. However, I've learned a lot in a few short months and one thing that has resonated with me is that cancer is one word, but it describes many different diseases, and there isn't one method that fixes all cancers, and so the research is essential, and while they've come so far, there is still so much to learn and do. My cancer ten years ago would not have been curable, so I owe so much of this next chapter of my life to the cutting-edge research done before me. I also owe a debt of gratitude to Damon Runyon as it was they who helped put me in touch with Dr. Eric Winer, the head of breast oncology at Dana Farber. They connected me with him a day after my diagnosis, and I was in his office that same week. I will forever be indebted to the introduction to Dr. Winer, and for the care and compassion, they showed me during the darkest hours of my life.
With that said, I'm happy and proud to be here supporting the research Damon Runyon funds. It is successful cancer research that is allowing me to continue to do what I want most in this life, and that is to be an integral part of my family as a wife and mom. My children and my husband are my inspiration, my drive, my reason for fighting, MY EVERYTHING, my entire world. I can't control the fact that I got cancer, but my greatest hope, as I stand here and share my story, is that the fundraising we do will eventually, somehow, someway contribute to cancer being a thing of the past and something my children don't ever have to worry about.