Five alumni were elected to the National Academy of Medicine, bringing the total number of Damon Runyon scientists who are members to 37. Membership is considered to be one of the highest honors in the medical field and recognizes individuals who have demonstrated outstanding professional achievement and commitment to service.
They are among the 90 regular members and 10 international members elected this year to the academy, which provides policymakers, professionals, business leaders and the public with independent, scientifically informed analysis and recommendations on issues related to health and the biomedical sciences.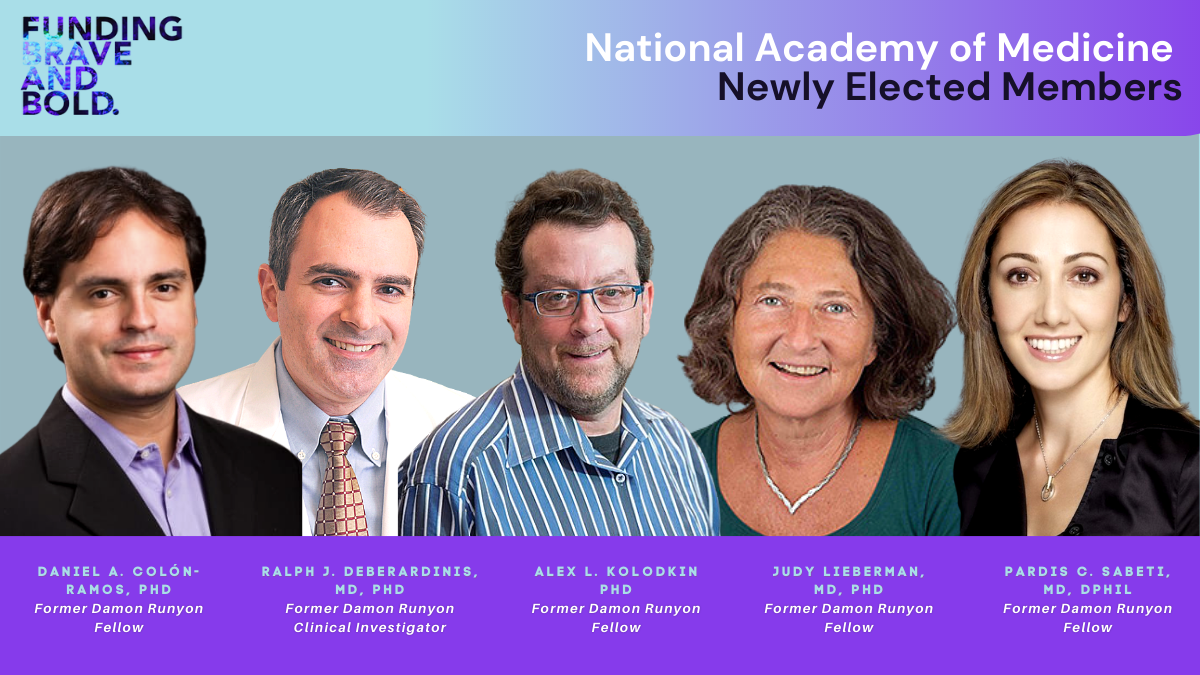 Daniel A. Colón-Ramos, PhD, (Fellow '04-'06) of Yale University School of Medicine, New Haven, Connecticut, is recognized for his fundamental discoveries regarding the cell biology of the synapse, including the role for glia in positioning synapses in vivo, the discovery that glycolytic proteins dynamically relocalize to synapses during energy stress, and elucidation of in vivo mechanisms regulating synaptic autophagy, both in physiology and disease.
Ralph J. DeBerardinis, MD PhD, (Clinical Investigator '11-'14) of University of Texas Southwestern Medical Center, Dallas, is recognized for fundamentally changing the understanding of cancer metabolism. His work emphasized the importance of mitochondria in tumor growth and identified metabolic vulnerabilities imposed by tumor genetics.
Alex L. Kolodkin, PhD, (Fellow '87-'90) of Johns Hopkins University School of Medicine, Baltimore, is recoginzed for his leadership in neural development research relating to the establishment of neuronal connectivity. He is known for his work on neuronal guidance cues and their receptors, the discovery of semaphorins, and unveiling guidance cue roles in neural circuit assembly and function in insects and mammals.
Judy Lieberman, PhD, MD, (Fellow '84-'86) of Boston Children's Hospital and Harvard Medical School, Boston, is recoginzed for uncovering the molecular basis by which cytotoxic lymphocytes trigger mammalian and microbial cell death during inflammation/sepsis in response to pathogens and danger signals. She pioneered the use of ribonucleic acid interference (RNAi) for therapy and gene discovery, and she was the first to show that small RNAs could be used as drugs in vivo.
Pardis C. Sabeti, MD, DPhil, MSc, (Fellow '04-'05) of Harvard University, Broad Institute, and Howard Hughes Medical Institute, Cambridge, Massachusetts, is recoginzed for her leadership in generating and releasing the first viral genome data during the 2013-2016 West African Ebola outbreak to advance countermeasures in the response. Her team's work in genomics, information theory, diagnostics, rural surveillance, and education have further contributed to efforts to combat Zika, Lassa, Ebola, malaria, and many other infectious diseases.