Damon Runyon scientists and industry partners gathered in person and virtually on Thursday, May 19 for the 2022 Accelerating Cancer Cures Symposium, hosted by Merck in South San Francisco.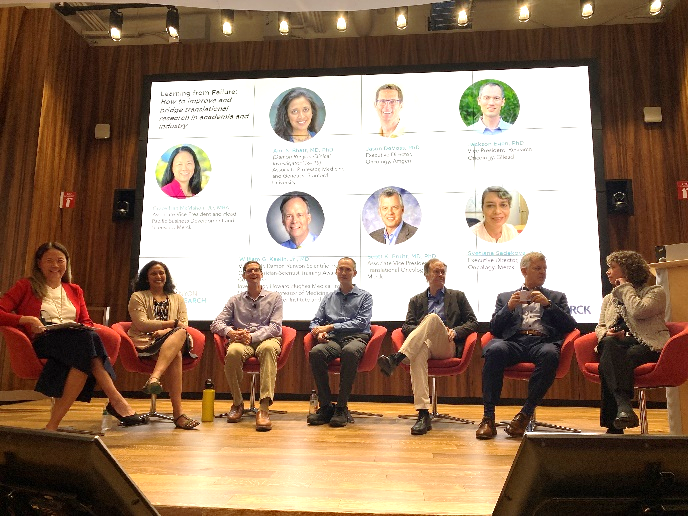 Accelerating Cancer Cures is a multi-million-dollar project aimed at supporting a new generation of clinical investigators as they translate the latest scientific discoveries into new diagnostics and therapeutics for patients. Founded in 2011, the initiative has included participants from Eli Lilly and Company, AbbVie, Amgen, ARIAD, Celgene, Genentech, Gilead, Merck, Novartis, Pfizer, and Takeda Pharmaceuticals International Co., in addition to scientists from the nation's top universities and research institutes. The annual Accelerating Cancer Cures Research Symposium is designed to foster communication and collaboration between cancer researchers in industry and academia.
This year's event opened with remarks from Damon Runyon Board of Directors member Richard B. Gaynor, MD, President and Chief of Research and Development at BioNTech, which were followed by a keynote address from David M. Weinstock, MD, Vice President of Discovery Oncology at Merck. Dr. Weinstock spoke about the company's mission to develop drugs that maximize therapeutic index, citing new technologies that may help convert deep remissions into cures. A roundtable discussion between scientists from Merck, Dana-Farber Cancer Institute, Stanford University, Amgen, and Gilead, moderated by Merck Associate Vice President Grace Han McMahon, addressed the challenges of translating basic science and pre-clinical models into effective drugs for patients. One of the panelists, former Damon Runyon Clinical Investigator Ami S. Bhatt, MD, PhD, of Stanford University, reflected upon the opportunities that arise when research does not go as expected, calling these "the most exciting type of failure—the unknown unknowns."
Attendees also heard research updates from current Damon Runyon Clinical Investigators and Physician-Scientists studying lung cancer, including Natalie Vokes, MD, of MD Anderson Cancer Center, Collin M. Blakely, MD, PhD, of the University of California, San Francisco, and John R. Ferrarone, MD, of Weill Cornell Medicine. Later in the afternoon, Damon Runyon-Rachleff Innovators Nora Kory, PhD, of Harvard T.H. Chan School of Public Health, and Alexandra-Chloé Villani, PhD, of Massachusetts General Hospital, and Damon Runyon Clinical Investigator David Y. Oh, MD, PhD, of the University of California, San Francisco, discussed recent advances in the fields of cancer biology and immunology.
In closing, Dr. Weinstock emphasized the need for continued collaboration between cancer researchers in industry and academia: "Almost all of the ideas pursued by biologists in industry, who are trying to figure out the next right drug target, come because an academic did the right set of experiments. These kinds of interactions are what's going to drive all of our success in the future."