Damon Runyon scientists and industry partners gathered in person on Thursday, March 9 for the 2023 Accelerating Cancer Cures Symposium, hosted by Amgen at their new campus in South San Francisco.
Accelerating Cancer Cures is a multi-million-dollar collaborative project aimed at supporting a new generation of clinical investigators as they translate the latest scientific discoveries into new diagnostics and therapeutics for patients. Founded in 2011 and led by the Damon Runyon Cancer Research Foundation, the initiative has included participants from AbbVie, Amgen, ARIAD, Celgene, Eli Lilly and Company, Genentech, Gilead, Merck, Novartis, Pfizer, and Takeda Pharmaceuticals International Co., in addition to scientists from the nation's top universities and research institutes. The annual Accelerating Cancer Cures Research Symposium is designed to foster communication and collaboration between cancer researchers in industry and academia.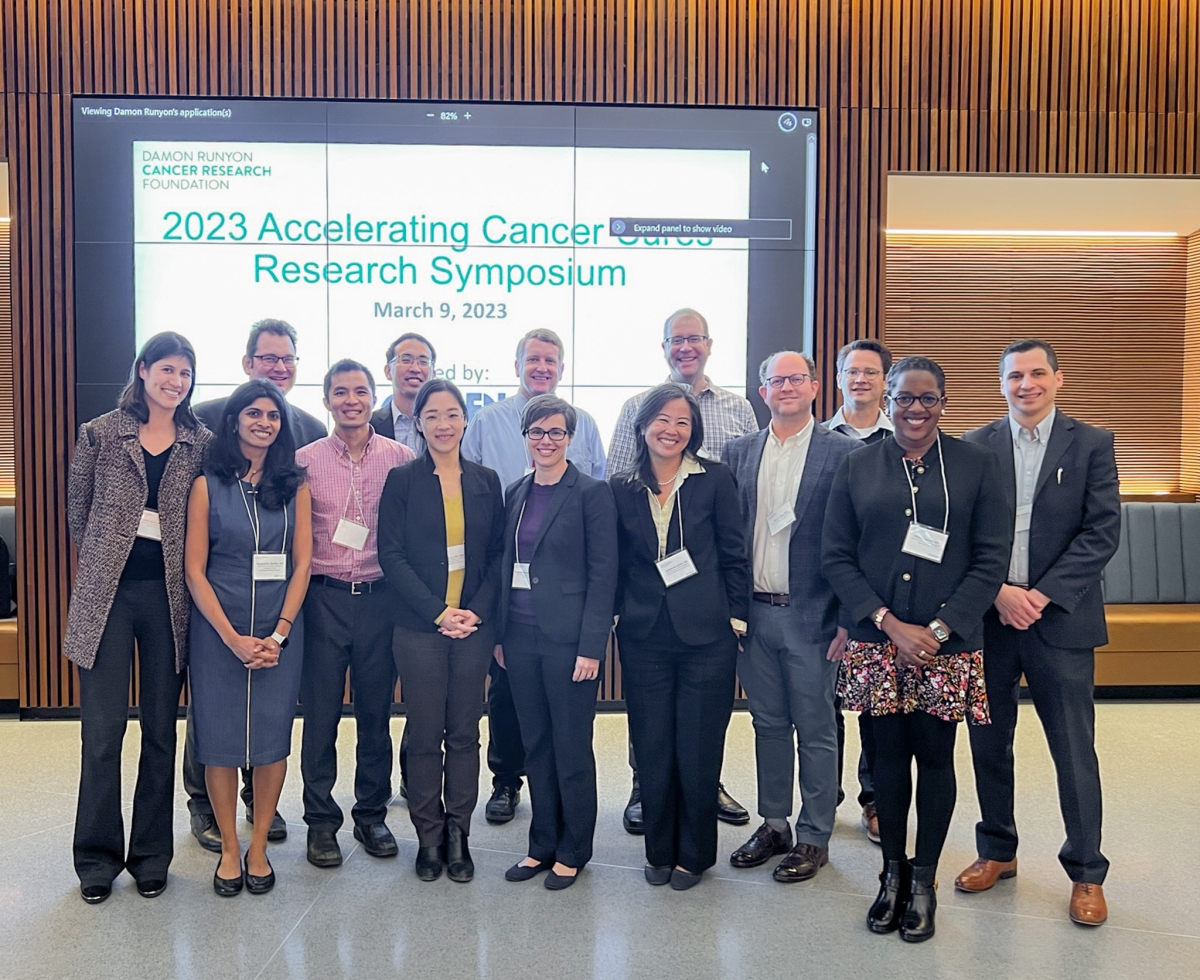 "Training the next generation of physician-scientists is a critical pillar in our mission, as these cancer researchers are uniquely positioned to carry breakthroughs from the lab into the clinic. Accelerating Cancer Cures provides vital support and resources toward this goal," said Yung S. Lie, PhD, President and CEO of the Damon Runyon Cancer Research Foundation. "We look forward each year to the opportunity to bring our remarkable scientists together with industry leaders to brainstorm the best path forward."
Damon Runyon Board of Directors member and chair of the Accelerating Cancer Cures Advisory Committee Richard B. Gaynor, MD, President and Chief of Research and Development at BioNTech, welcomed all symposium attendees to kick off the day's events. Following opening remarks from Jason DeVoss, PhD, Executive Director of Oncology Insight at Amgen, Damon Runyon scientists Mandar D. Muzumdar, MD, Catherine C. Smith, MD, and Brian B. Liau, PhD, presented updates on their research. Each is pursuing a deeper understanding of cell signaling to aid in the development of more effective therapies for recalcitrant cancers, including pancreatic cancer and treatment-resistant leukemias.
After an inspiring keynote address from Julie M. Bailis, PhD, Executive Director of Oncology Research at Amgen and former Damon Runyon Fellow, Stephanie Casey Parks, PhD, a Senior Scientist in Oncology Research at Amgen, moderated a panel discussion among industry leaders and medical oncologists about the key components of successful collaborations. Among the panelists was a former Damon Runyon-Lilly Clinical Investigator: Cassian Yee, MD, now the Director of the Solid Tumor Cell Therapy Program at the University of Texas MD Anderson Cancer Center.
Later in the afternoon, attendees heard research updates from current Damon Runyon Clinical Investigators Xiuning Le, MD, PhD, Todd A. Aguilera, MD, PhD, and Alexander C. Huang, MD, who are each working to develop new targeted and immunotherapies for patients with relatively few treatment options. Dr. Aguilera is currently leading a clinical trial that combines an immunotherapy known as an anti-CD40 agonist with radiation and chemotherapy for advanced rectal cancer. If the proposed treatment is successful, it could become a new therapeutic standard that lowers the risk of metastasis, improves survival, shortens the treatment course, and potentially avoids the need for surgery.
After Kristin Tarbell, PhD, Senior Principal Scientist in Oncology Research at Amgen, closed the symposium, Damon Runyon scientists and other attendees took to Twitter to express support for the annual event. "It was a wonderful opportunity to hear cool science, meet other grantees, and discuss academic-industry collaborations!" Dr. Muzumbar tweeted. "Fantastic speakers and a great discussion," Damon Runyon Physician-Scientist Dennis J. Hsu, MD, agreed.
"Like Damon Runyon, our mission at Amgen is to serve patients and deliver the next generation of cancer drugs and develop the next generation of cancer scientists," said Jason DeVoss, PhD, Executive Director of Oncology Insight at Amgen. "The Accelerating Cancer Cures Symposium was a great opportunity to discuss the challenges we face and to discuss ways to work together in the future."