The Damon Runyon Cancer Research Foundation held its Annual Breakfast at Cipriani 42nd Street in New York on Wednesday, June 7, 2023. The event raised over $1 million to support promising early-career scientists pursuing innovative strategies to prevent, diagnose, and treat all forms of cancer.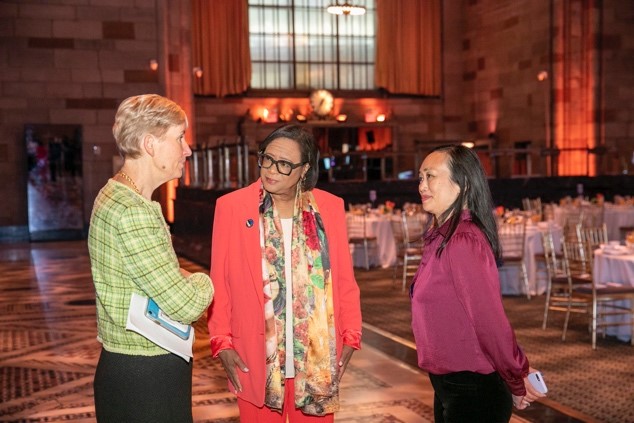 The Breakfast honored sports industry trailblazer and cancer survivor Cynt Marshall, Chief Executive Officer of the NBA's Dallas Mavericks, and former Damon Runyon Clinical Investigator and immunotherapy pioneer Jedd D. Wolchok, MD, PhD, Meyer Director of the Sandra and Edward Meyer Cancer Center and Professor of Medicine at Weill Cornell Medicine. Over a 36-year career at AT&T and as CEO of the Mavs, Ms. Marshall has been a dynamic force for change, spearheading a cultural transformation in recent years that evolved the Mavericks to the NBA standard for inclusion and diversity. Dr. Wolchok's research transformed the landscape of cancer treatment, when, in 2011, the FDA approved the first checkpoint inhibitor, Yervoy, after it was shown to be effective against metastatic melanoma in clinical trials led by Jedd and his colleagues. His work paved the way for a world in which our own immune systems are equipped to eradicate cancer.
Among the brilliant scientists furthering this work is Damon Runyon-Dale F. Frey Breakthrough Scientist Abby Overacre, PhD, whose lab at the University of Pittsburgh is exploring strategies to modify the gut microbiome of patients who do not currently respond to immunotherapy. "Damon Runyon has always supported me in asking out-of-the-box questions," she told those gathered on Wednesday. "Questions that traditional funding mechanisms may not fund, but that I truly believe are the way we are going to make big strides forward in cancer treatment." Later, former Damon Runyon Clinical Investigator Vinod P. Balachandran, MD, told the exciting story of how he and his team at Memorial Sloan Kettering Cancer Center developed the first mRNA vaccine against pancreatic cancer, generating promising clinical trial results that made headlines earlier last month. Dr. Balachandran thanked his mentor, Dr. Wolchok, for demonstrating what was possible with immunotherapy.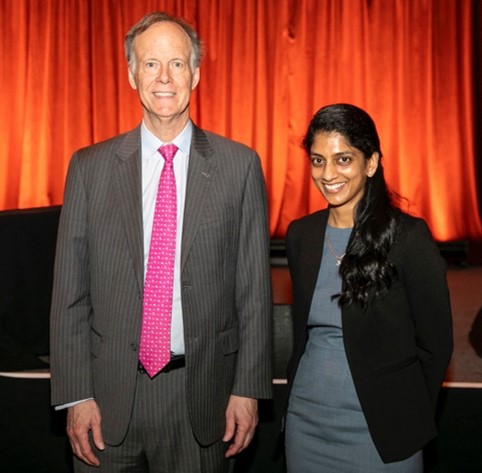 At the Breakfast, William G. Kaelin, Jr., MD, 2019 Nobel Laureate and Damon Runyon Board Member, announced that Mounica Vallurupalli, MD, had been named the Foundation's first Damon Runyon-David M. Livingston, MD, Physician-Scientist in honor of a longtime Damon Runyon Board Member, globally renowned cancer researcher, and beloved mentor to many, including Dr. Kaelin himself. Dr. Vallurupalli's research at Dana-Farber Cancer Institute focuses on proteins called splicing factors, which play a critical role in gene expression and can contribute to the development of certain blood cancers. She aims to identify previously unrecognized therapeutic targets for treating these cancers.