The American Association for Cancer Research (AACR) has presented the 2020 AACR-Joseph Burchenal Award for Outstanding Achievement in Clinical Cancer Research to Damon Runyon alum Jedd D. Wolchok, MD, PhD. This award recognizes Dr. Wolchok for his leadership in the groundbreaking clinical development of immunotherapy drugs called checkpoint inhibitors for treating cancer.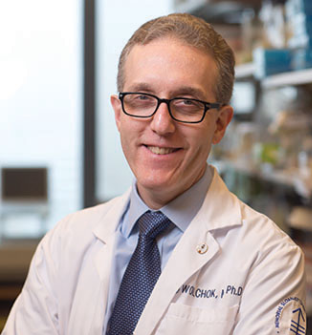 Dr. Wolchok, of Memorial Sloan Kettering Cancer Center and Weill Medical College of Cornell University, is internationally recognized for his seminal role in developing ipilimumab (Yervoy). The drug works by exploiting the ability of the body's own immune system to attack cancer. Specifically, it blocks the activity of a protein called CTLA-4 which takes the brakes off immune cells called T cells, freeing them to go after cancer.
Dr. Wolchok led the clinical trials that resulted in the drug's approval by the U.S. Food and Drug Administration (FDA) in 2011. After determining that ipilimumab generated tumor regression in 20 percent of melanoma patients, he began designing and conducting clinical trials testing immunotherapy combinations to improve this number. Dr. Wolchok led the pivotal phase III clinical trial demonstrating that the combination of ipilimumab and the chemotherapy dacarbazine significantly increased survival rates in patients with metastatic melanoma. He also conducted trials that led to the FDA approval of ipilimumab and the PD-1 monoclonal antibody nivolumab (Opdivo) as a treatment for advanced melanoma in 2015.
Watch Dr. Wolchok's patient, Karen, describe how immunotherapy saved her life.
Dr. Wolchok continues to drive progress in the field of immunotherapy for cancer. He serves as the principal investigator on numerous ongoing clinical trials testing innovative ways to harness the immune system to treat cancer.
The AACR and Bristol-Myers Squibb established this award in 1996 to recognize outstanding achievements in clinical cancer research. The award honors Dr. Joseph H. Burchenal, honorary member and Past President of the AACR, and a major figure in clinical cancer research.
Read More: American Association for Cancer Research