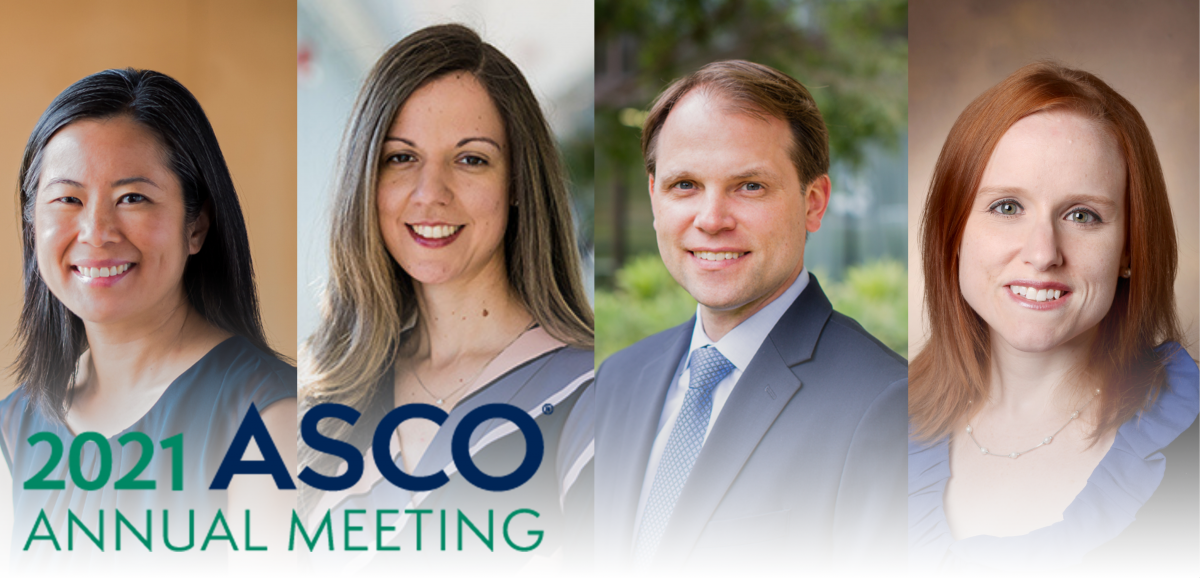 The American Society of Clinical Oncologists hosted their annual meeting this past weekend (June 4th-8th, 2021), giving oncology professionals from around the globe the chance to present cutting-edge research on new cancer therapies, ongoing clinical trials, and standards of patient care. Among the studies presented were those of several former and current Damon Runyon Clinical Investigators, whose research unites lab inquiry with clinical application.
Priscilla K. Brastianos, MD (Clinical Investigator '15-'20)
Craniopharyngiomas, a rare brain tumor that occurs near the pituitary gland, can currently only be treated with surgery and radiation, both of which carry significant risk. However, after her lab research revealed that 95% of patients with craniopharyngiomas had the same mutation in a gene called BRAF, Dr. Brastianos saw potential for a targeted therapy. She translated her findings to the clinic, developing a BRAF/MEK inhibitor that has yielded "wildly positive" results in Phase 2 clinical trials. "Every patient that received 1 or more cycles of therapy responded," Dr. Brastianos reported. "We've never seen responses like this in brain tumors!" Their findings indicate that the new drug could be "a powerful tool" in the treatment of craniopharyngiomas, to be validated with larger studies.
Christine Lovly, MD, PhD (Clinical Investigator '13-'19)
Targeted therapies for metastatic non-small cell lung cancer (NSCLC) have become increasingly available in recent years, with five new drugs receiving FDA approval in 2020 alone. Patients are considered eligible for targeted therapy if molecular testing reveals the presence of genetic variant(s). Determining which patients should get which drugs, however, remains a challenge for clinicians. In her educational session, titled "Not All Variants Within a Given Target Are Created Equal," Dr. Lovly emphasized the importance of "drill[ing] down to the level of which specific variant is present within the gene" to determine the appropriate targeted therapy. Knowing a patient has a mutant ALK gene, for example, is not enough; a fusion alteration would make them eligible for an ALK inhibitor, but a point mutation would not. The future of NSCLC treatment, she said, thus lies in "increasingly complex" biomarker testing.
Collin M. Blakely, MD, PhD (current Clinical Investigator)
The drug osimertinib is effective for the treatment of advanced EGFR-mutant lung cancer, but tumor resistance nearly always develops. Research has shown that activation of a gene called AURKA is what drives this resistance—leading Dr. Blakely and colleagues to develop alisertib, a selective AURKA inhibitor, for use in combination with osimertinib. Early clinical trials have now established alisertib's safety and tolerability, and preliminary efficacy analysis suggests that alisertib combined with osimertinib may offer significant benefit to EGFR-mutant lung cancer patients whose disease is resistant to osimertinib alone. This hypothesis will be tested in upcoming clinical trials.
Catherine C. Smith, MD (current Clinical Investigator)
FLT3 mutations are the most common genetic alteration found in acute myeloid leukemia (AML), a blood cancer that affects both adults and children. The FLT3 inhibitor known as FF-10101-01 has demonstrated anti-cancer activity in vitro against FLT3-mutant tumors, including those with a specific mutation associated with low survival rates and highly incidences of resistance. Recently, Dr. Smith and her colleagues conducted the first trials of FF-10101-01 in humans and found it to be safe, well-tolerated, and able to sustain FLT3 inhibition. Having established the recommended dose, the team will now prepare for the next phase of clinical trials.